A Fountain Pen In "Bad Taste"
01/20/2018
The Kaweco Perkeo is an entry-level fountain pen that comes in four color combinations. The "Bad Taste" model is black and a warm pink, the color of Rohrer & Klinger Fernambuk or J. Herbin Rouge Caroubier. I couldn't resist the name. It's kind of cool and raunchy at the same time. And an good wake-up call on a gloomy winter's day.
"Come play with me! I've got trouble written all over my sleek body and colorful cap."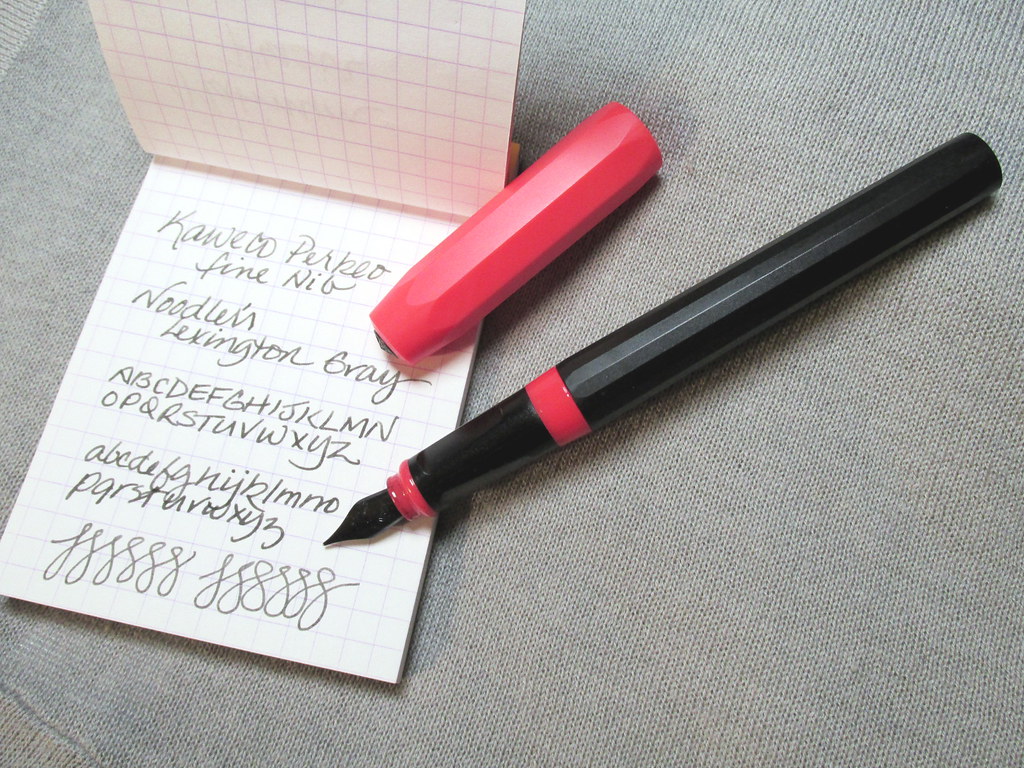 Renowned for quality craftsmanship, Kaweco has been in business since 1883 so they know a thing or two about pens. The lightweight, matte plastic Perkeo is solidly made and comfortable in the hand. It is long enough to use without the cap and well-balanced enough to be used with it. The faceted snap cap is designed to rest solidly on a flat surface so it won't roll away. All and all, it's a well-thought-out model that should prove a sturdy companion for years to come.
The stainless steel, iridium tipped nib is stiff, but will give slightly with pressure. It puts down a consistent line thanks to its steady flow. The fine glides well with a little feedback on Rhodia paper. On junk paper, it is a little less smooth. My Lamy Safari nibs might glide a little more easily, but I prefer the grip on the Perkeo. The Pilot Kakuno is comparable in most ways except flow. The Perkeo might be a bit more controlled, but that could just be slight differences in the nibs that only someone who is incredibly picky would notice.
With a light touch, I found the Perkeo pleasant to use on any paper whether for sketching or writing. It scores bonus points for an instant start following a month of no use. That's a significant advantage for casual writers.
The black and pink model seemed to fight with many colors of ink. However, a stroke of luck paired it with my favorite non-black drawing ink, Noodler's Lexington Gray, and that settled its future. Not that Lex Gray hasn't had many suitors, but the Perkeo makes an especially attractive mate and offers a very enjoyable nib for the ink.
The Perkeo uses Kaweco cartridges and converters though International carts should work as well.
Who knew a pen in "Bad Taste" would be such a find?
Your purchase from Amazon helps support An Inkophile's Blog. Thank you!
Kaweco Perkeo "Bad Taste" fine nib
The Well-Appointed Desk has a review, too.
12 comments