Stolen Fountain Pens – Please Help!
05/13/2017
From TheNibSmith, Daniel Smith:
PLEASE HELP! On Thursday, May 4th, approximately $40,000 worth of fountain pens were stolen out of my vehicle in Chicago near the Adler Planetarium. A list of easily identifiable pens with serial numbers is provided below with more details, images, and the entire list of items stolen provided at my website. If you happen to come across any of these items, please let me know. There will be a reward for information leading to the recovery of any of my pens. I would greatly appreciate it if you could share this information with others.

1. Franklin-Christoph Penvelope 13 in Boot Brown
2. Markiaro 44 pen leather briefcase
3. Aurora 12 pen, black clam-shell case
4.Aurora 85th Anniversary, medium nib (don't recall serial number)
5. Montblanc Hemingway Writers Edition, oblique broad nib
6. Montblanc Charles Dickens Writers Edition, medium nib
7. Classic Pens LB5 Tensui (blue) w/ chrome trim, medium nib, Serial Number: #00/50
8. Sailor King of Pen ebonite, King Eagle nib
9. Nakaya Long Piccolo, medium (had custom lettering on barrel)
10. Nakaya Naka-ai, XXF
11. Nakaya NeoStandard medium Color: Araishu (orange), gold trim
12. Visconti Homo Sapiens Corsani 90th Anniversary, broad nib, Serial Number: #49/90
13. Pelikan M1005 Demo, 3B two-tone nib
14. Pelikan Silver Screen, EF nib, Serial Number: #260/420
15. Aurora 88 Nebulosa, Serial Number: #626/888
16. Aurora 88 Sigaro, Serial Number: #341/888
17. Aurora 88 Sole, Serial Number: #170/888
18. Aurora Optima Green Auroloid, fine flex nib(!), gold trim
19. Aurora Optima Monviso, medium nib, Serial Number: #48/360
20. Montegrappa Ducale Grande, stub nib, Serial Number: #76/888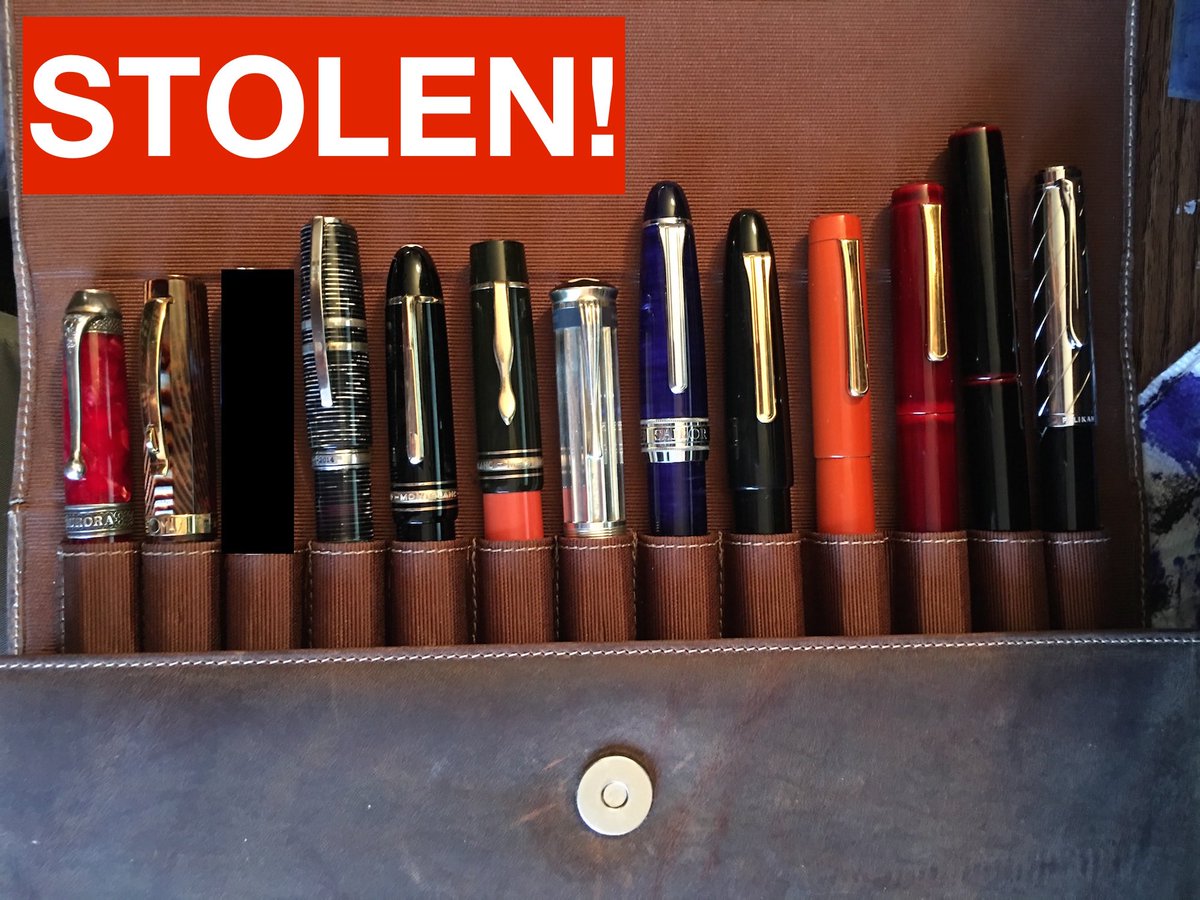 https://nibsmith.com/2017/05/13/please-help-find-stolen-pens/
7 comments